Hi everyone,
I am 26 and from the UK. On the 14th and 15th of September I had an FUE procedure for 2000 grafts with Dr Bisanga at the BHR Clinic in Belgium. Hair loss has bothered me for years despite it being minimal compared to a lot of peoples situations.
This was not my first attempt to cure my hair loss. Aged 20 I went to well known high street hair replacement company and embarked on their Minoxidil and low lever laser therapy treatment for 6 months with zero results except pockets which weighed £2500 less. I discontinued Minoxidil shortly after this program due to a lack of results and slight scalp irritation which I believe increased my loss in the area's it was applied. The experience left me sceptical of the hair loss industry and a scepticism I don't think will fully leave me until I have more hair at the front of my head.
Six years later I went to Belgium to meet Dr Bisanga and his staff during a consultation. The first thing he said to me is "I see you sitting in front of me with a lot of hair. What is it you want me to do for you?". He was right. I concealed my loss with slightly longer hair and Dermmatch which worked well for me. I explained this and he had a look. We then discussed what I wanted and what he could do for me. Any recommendation was conditional that my donor hair was of a certain calibre. He measured my donor density to be 80/70/80 (side/back/side I think?) and said I had good calibre medium coarse hair with good follicular groupings. We then drew on a possible hairline and how far back into miniaturising existing hair any transplant would need to go. I was happy with what we discussed (and drew) and I went back home to think things over. A few months after I went ahead and booked. Why?
A good reputation, a lot of posted cases similar to my loss and the fact there was no hard sell or promises of juvenile hairlines. I know I will bald further as I get older and I know I have a finite number of grafts to mask this and this point was hammered home to me. In case I was in any doubt. I am on Finasteride and will continue indefinitely.
The surgery itself is in my opinion nothing to be scared of though anxiety is inevitable I guess. The anaesthesia did nip a little in certain areas. I personally found it worse in the forehead areas and at the nape of the neck but it really is nothing major and is in no way worth losing sleep over. Count to 10 in your head or picture playing with your new kitten like I did. If the results are what I and the clinic expect at 12 months and I ever need a hair transplant to cover future loss the thought of a going through another procedure will not make me nervous in the slightest as discomfort is minimal.
The staff at the clinic were great. The nurse, the technicians and of course Dr Bisanga. The UK patient adviser Stephen was and is a great help. I owe a big thanks to him for making my trip as comfortable and pleasant as possible. From sorting out an issue with the hotel to booking me a taxi to take me to the airport and always responding to my emails promptly pre-op and post-op even when to be honest I am a pest.
Post op sleeping was fine the first couple of nights as I think there was still some anaesthetic in my system. I slept with the aid of mounted pillows and a travel pillow however my donor area was uncomfortable up to a week post op. When lying on it felt like it does when pressure applied to a bruise. Anyway this is par for the course and has now subsided €" no issues. The swelling was not too bad either but did eventually trickle down my face around day 3 to the bridge of my nose then under my eyes. At night I would sit in my hotel room watching football on my laptop taking unopened near frozen cans of beer, coke etc. from the mini bar and holding them to my head and I think this helped. Sounds silly, looked silly but it worked.
There were no issues going through customs at the airport post op with a bandana or the 100ml bottle of saline solution spray but just in case the clinic provided me with a letter explaining my situation and asking for my bandana to be removed in private if necessary.
So here I am 8 days post op. The pictures below are pre-op, which include the designed hairline and show the areas to be targeted in the transplant i.e. the hairline and going back into the frontal 3[sup]rd[/sup], 5 days post op with the crusts and 8 days post op without. There is pinkness in the recipient but nothing too bad. My donor looks pretty good I feel and my hair at a number 1 basically camouflages it already.
The only incident of note so far has been a slight panic on my part about the crusts healing. A lot joined together leaving large pink areas of hairless skin which I had never seen documented in anyone else €™s hair transplant experiences. True to Stephens word it turns out it is just how I heal. Since the crusts have left I have no hairless areas and I can only guess that the crusts had stretched areas of scalp leaving more exposed skin? The pictures below illustrate this I hope when you compare 5 days post op to 8.
Procedure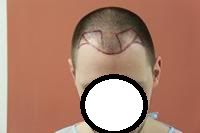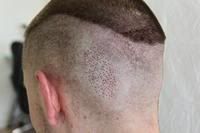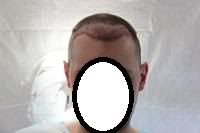 5 days Post Op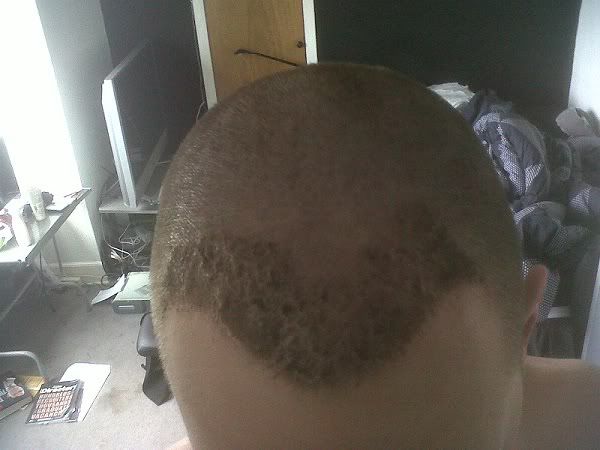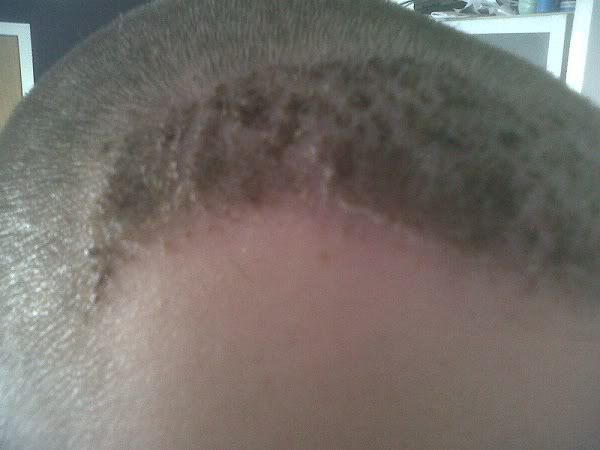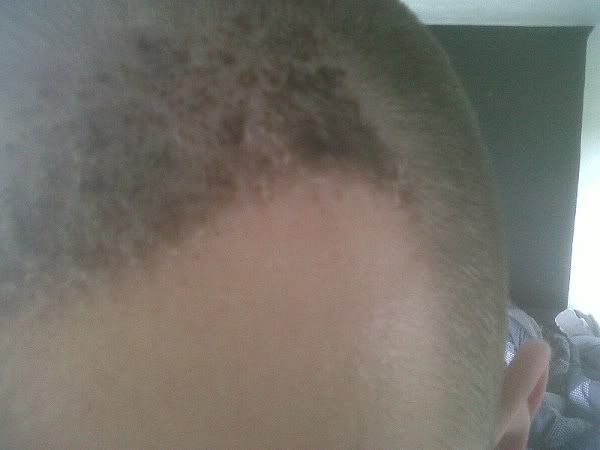 8 days Post Op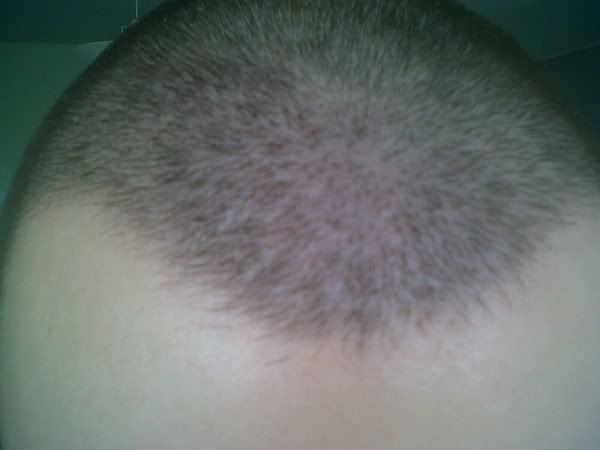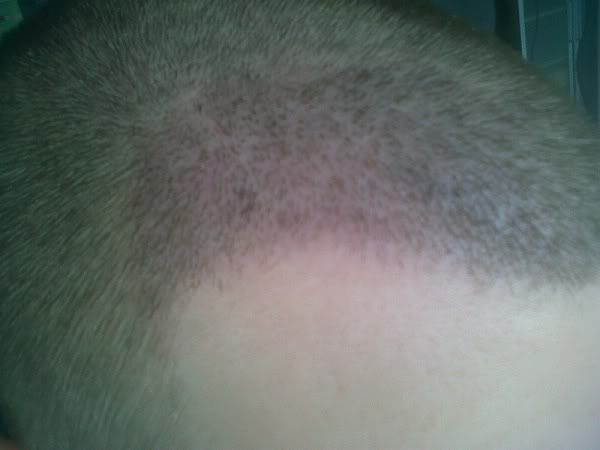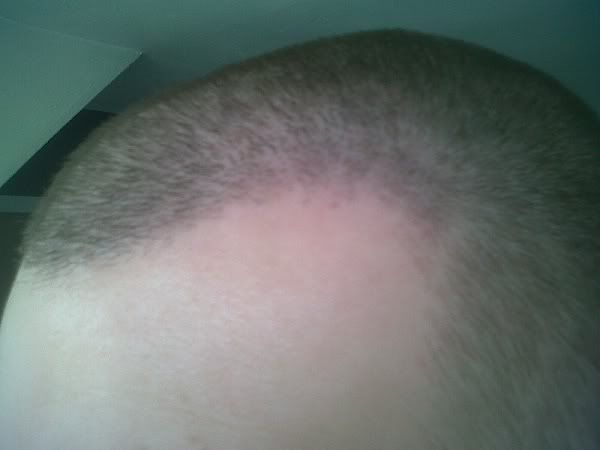 Donor 8 Days Post Op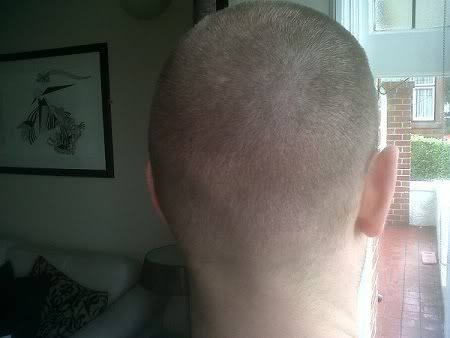 It is now a waiting game for me to see how this all turns out and as I said to Stephen prior to leaving it will ultimately be the results in terms of growth that define how good an experience this has been for me. I am highly sceptical about the hair loss industry and this has not changed but what I can say just now is that the beginning has went better and easier than I had imagined. Going forward the next few months will be nervous times for me as firstly the newly transplanted hairs shed and then hopefully return somewhere from 3-6 months on.
Anyway, if anyone has any questions at all please ask. I know how hair loss has, and continues, to make me feel and if I can be of assistance to anyone then I would like to help. As for this page I intend to update it weekly for the first month and monthly thereafter.
Thanks for reading.
P.S. Stephen if you have any bigger images of my procedure shots feel free to upload them. If you could blank out my face first though please.